PURSHO High Speed Charging & Data Sync Transfer Cable with USB 3.0 Port + 18 Months Warranty on Manufacturing Defects
Live the real Royal Indian Style with PURSHO Quality Products in your wardrobe.
The PURSHO premium cable features our special & unique jacket which provides greater protection than anything else you have seen in its class.

FAST CHARGE & SYNC:Ensure a maximum charging speed up to 2.4A, charge faster than most standard cables and work better for tablets and quick charge devices. Great performance ensures your devices syncs and charges simultaneously with up to 480Mb/s transferring speed.

Rapid Charge and Data Transmit: Our cables are made with, extra thick solid copper wire, which facilitates faster charge and data transmission and is AWG twisted to provide maximum signaling rate and anti-interference.

An additional layer of protection has been added to the Lightning and USB ends to improve durability and reduce fraying; Cables have been tested to bend 95-degrees 4,000 times.

Warranty: We took immense care and used advanced technology to build a without worry product But just in case you have an issue, this product comes with 18 Months manufacturer warranty and amazing consumer service.
The PURSHO 2.4A Fast Charging Cable gives you the power to do more with your time. Its fast charging core and Hi-speed cable together reduce charging time by up to half when compared to a standard 1A charger. It's been designed to withstand rough use, drops, voltage fluctuations and extreme temperatures and comes with assured quality, durability, and reliability.

Up to 2X Faster Charging
With the 2.4A USB Fast Charger, you can reduce the charging times by up to half when compared to a 1A charger. Less time plugged in for charging means more time with your device on the go.

480Mbps Hi-speed USB Data Cable
With the Hi-speed USB data cable, you can not only charge your device but also transfer data between devices at the same time. Its specially designed Hi-speed core lets you transfer data at rates up to 480 Mbps. This means you can transfer an HD movie, up to 3 GB in size, in under a minute.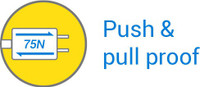 BreakProof
The charging pins have been subjected to strenuous forces of up to 75N to ensure durability. Whether you are pushing or pulling the plug, the pins are not easily damaged and last for a long time.

Joint Break Proof – Life of over 10,000 USB Insertions and Removals
On average, there are 800 USB cable plug-in and plug-out actions in a year. We have built our cables to last for over 10,000 USB insertions and withdrawals so that you never have to worry about wear and tear again.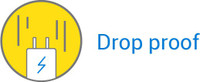 Drop Proof – Drop tested from 6 feet
You don't have to worry if you accidentally drop the 2.4A Fast Charging Cable. It has been built and tested to survive drops from heights of up to 100 feet.

Weather Proof – Tested for extreme temperatures and high humidity
From the humid coasts of Mumbai to chilly terrains of Kashmir, no matter where you go, the PURSHO cable will always be with you through every step of your journey. It's built to withstand extreme temperatures ranging from -20°C to 70°C as well as adverse humidity of up to 95% RH.

Overload and Short Circuit Protection
You don't have to worry the next time you face voltage fluctuations. The 2.4A Fast Charging has been built to withstand intermittent fluctuations and overloads to thereby prevent possible damage to the connected device.

35+ Checks and Tests
PURSHO Charging Cable have passed over 35 checks and tests to ensure adherence to quality, safety and reliability standards.
Compatible with around 7000+ microUSB Port Devices
Check List @
https://pricebaba.com/mobile/pricelist/phones-with-micro-usb-port-in-india